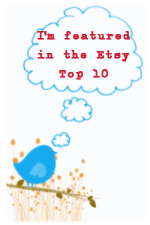 My recent listing, Argyle Beard, was featured as number 7 on the Etsy Top Ten list this week!
Please go here to see the complete list.
Much thanks to
Tim Adam
, a fellow Etsy seller who creates delightful steel sculptures, jewelry and other creations and is the creator of many online venues, including
Handmadeology
and numerous online sellers courses. You rock, Tim! I have already at least doubled the number of views that I started the day with!
I also grabbed an
Etsy Treasury
in Treasury West today, so I could feature some other people's work as well! Go check it out in the next couple of days!